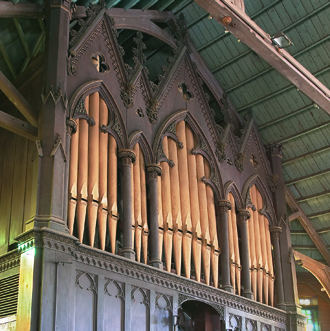 …an international sampler of recently released recordings of organ music.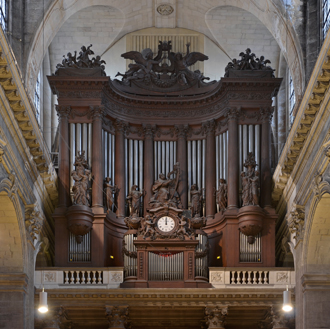 …as prelude to the next Pipedreams Tour (May 23-June 4), this selection of instruments featured in our itinerary.
Hear about our upcoming show A Pipedreams Anniversary , Program No. 1704 (1/23/2016)

For the convenience of those of you with mobile devices, now you can listen to our PIPEDREAMS audio at http://www.yourclassical.org!
See highlights of the 2016 Tour to Northern England & Scotland by visiting the Pipedreams 2016 Tour page.

Our Trip to France is SOLD OUT!!
HOWEVER, we are deep into planning a trip to Australia (October 31-November 13, 2017)… specifically to Melbourne and Sydney. Watch our website for more information about this special Pipedreams 35th Anniversary Tour hosted by Michael Barone. Get the news first when you sign up for our newsletter!


Meet Michael!
Michael Barone makes personal appearances here and there, and would love to greet you at one of these upcoming events:
February 19, 2017:
There's a likelihood that Michael Barone will show up for the gala organ inaugural (and 8-hour marathon performance) at the University of Iowa. If you're in the area, stop by!

March 18, 2017:
Join Michael Barone and friends for a full morning and afternoon of free performances during the annual Before Bach's Birthday Bash in the Twin Cities. Details TBA.
You can 'meet Michael' in places that few have a chance to visit, inside the marvelous, magnificent and monumental Wanamaker Grand Court Organ at Macy's Philadelphia Department Store…via a superb behind-the-scenes visit with Wanamaker Organ curator Curt Mangel, via a detailed DVD that reveals much about this incredible music-making masterpiece.

An Amazing Organ Restoration Story:
On many occasions, PIPEDREAMS broadcasts have featured compact discs from the catalog of
JAV Recordings
. The inspiration for that catalog, and the devotion of its manager, was initiated years ago by the sound of a modest church organ in Brooklyn, an instrument that had been silent for more than a decade, but now lives again! The organ at Our Lady of Refuge Church is quite extraordinary, and its restoration revealed a surprisingly versatile instrument which, despite its modest specification, has been proven capable of playing a wide variety of music in an authoritative and compelling way. Check out a
New York Times
article about its restoration, enjoy the
Brooklyn Daily
newspaper coverage of its rededication, and listen to the organ put to the test by
Olivier Latry
as
Father Michael Perry
exhorts it to fulfill its destiny below, and follow the
history of the project
.
In the spotlight

1991 Noack organ at Sacred Heart Cathedral, Davenport, IA
National broadcasts of Pipedreams are made possible with funding from Mr. and Mrs. Wesley C. Dudley, MAHADH Fund of HRK Foundation, by the contributions of listeners to American Public Media stations, and by the Associated Pipe Organ Builders of America, APOBA, representing designers and creators of fine instruments heard throughout the country, on the Web, and toll-free at 800-473-5270.