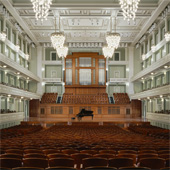 …concert performances and some engaging contemporary compositions from Tennessee's Music City.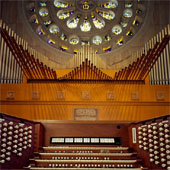 …in anticipation of our thoroughly American holiday, these works by some thoroughly American composers.
Hear about our upcoming show Sunshine from San Diego , Program No. 1448 (12/1/2014)
See highlights of the 2014 Tour to Switzerland by visiting the Pipedreams 2014 Tour page.

Meet Michael!
Michael Barone makes personal appearances here and there, and would love to greet you at one of these upcoming events:
November 9-14
The East Texas Pipe Organ Festival
For the third year, Michael Barone serves as audio documentarian for this increasingly popular celebration of Aeolian-Skinner organs.
November 16
Pipedreams Live! (Part 1) at Broadway Baptist, Fort Worth, TX
Join Michael Barone and Friends for a splendid evening of music for organ and brasses featuring the largest pipe organ in Texas!
November 18
Pipedreams Live! (Part 2) at St. Michael and All Angels Church, Dallas, TX
Michael concludes this visit to the Lone Star State with a second, totally different program and soloist roster, including spectacular duets by resident musicians James Diaz and Hyeon Jeong and the Imperial Brass!
November 23, Sunday
Happy Birthday, Hurricane Mama!
Michael Barone hosts an all-star roster of soloists in celebration of the unique Walt Disney Concert Hall pipe organ in Los Angeles.
You can 'meet Michael' in places that few have a chance to visit, inside the marvelous, magnificent and monumental Wanamaker Grand Court Organ at Macy's Philadelphia Department Store…via a superb behind-the-scenes visit with Wanamaker Organ curator Curt Mangel, via a detailed DVD that reveals much about this incredible music-making masterpiece.
Relive the Aural Fireworks!
If you're still in need of some aural fireworks, Pipedreams host Michael Barone returned as master-of-ceremonies for the annual Independence Day Organ Concert at Washington National Cathedral. Enjoy the sound of the Cathedral's 10,647-pipe, 189-rank Skinner/Aeolian-Skinner organ heard in a variety of marches and patriotic music. The concert opens with Aaron Copland's striking Fanfare for the Common Man and the singing of the National Anthem and includes appearances by the Washington Symphonic Brass and United States Navy Sea Chanters. Enjoy the audio and video from the archived 2014 program here as well as excerpts from 2011-2012-2013 July Fourth concerts featured in PIPEDREAMS Program #1426.
Also, if you missed out on the recent Organ Historical Society convention, you can relive one of the major evening concerts, the webcast of Christopher Houlihan's performance on the 1940 Aeolian–Skinner at Cornell's Sage Chapel!

The 2014 PIPEDREAMS tour group has returned from another adventure! Our itinerary took us to Basel, Bern, Lausanne, Geneva, Lucerne, and Zurich, with additional stops in Fribourg, Sion, Romainmotier, Neuchatel, Lutry, St. Urban and Einsiedeln, among others. We also visited the Museum of Mechanical Musical Instruments in Seewen and heard an instrument upon which famous composers and soloists from the past 'played' for us via organ-rolls!
Our special online diary includes many pictures and comments, with still more yet to be posted. We invite you to share the delight of our journey on our FACEBOOK tour page!
An Amazing Organ Restoration Story:

On many occasions, PIPEDREAMS broadcasts have featured compact discs from the catalog of JAV Recordings. The inspiration for that catalog, and the devotion of its manager, was initiated years ago by the sound of a modest church organ in Brooklyn, an instrument that had been silent for more than a decade, but now lives again! The organ at Our Lady of Refuge Church is quite extraordinary, and its restoration revealed a surprisingly versatile instrument which, despite its modest specification, has been proven capable of playing a wide variety of music in an authoritative and compelling way. Check out a New York Times article about its restoration, enjoy the Brooklyn Daily newspaper coverage of its rededication, and listen to the organ put to the test by Olivier Latry as Father Michael Perry exhorts it to fulfill its destiny below, and follow the history of the project.
In the spotlight

1997 Goulding & Wood organ at the Saint Meinrad Archabbey, Indiana
National broadcasts of Pipedreams are made possible with funding from Mr. and Mrs. Wesley C. Dudley, MAHADH Fund of HRK Foundation, by the contributions of listeners to American Public Media stations, and by the Associated Pipe Organ Builders of America, APOBA, representing designers and creators of fine instruments heard throughout the country, on the Web, and toll-free at 800-473-5270.